Why Does the Canadian Government Hate Chris Brown?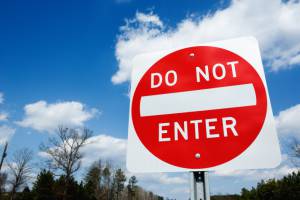 Controversial American R&B singer Chris Brown was prohibited from entering Canada on Feb. 24. As a result, he cancelled sold out shows in Toronto and Montreal. Brown posted the news on Twitter saying, "The good people of the Canadian government wouldn't allow me entry. I'll be back this summer and will hopefully see all my Canadian fans." No specific reason was cited for the denial of entry, but Brown has had a number of run-ins with the law in the United States.
Chris Brown's Criminal Record
The 26-year-old singer has been involved in rather frequent altercations in recent years. Here are a few examples:
His most highly publicized offense was with recording artist Rihanna in February of 2009. The two were in a relationship when the incident occurred. They had an argument that resulted in Rihanna being hospitalized for facial injuries she sustained. Brown was ultimately charged with felony assault and making criminal threats. His sentence was viewed by many as too light because it did not include any jail time; Brown got five years probation, one year of domestic violence counseling and community service work. The judge also enacted a five year restraining order forcing him to stay 50 yards away from Rihanna and 10 yards at public events.

In January of 2013, Brown got into a fight over a parking space with rapper Frank Ocean. He allegedly punched Ocean and threatened to kill him, but there were no formal charges.

Brown was arrested for felony assault in October of 2013. He was accused of punching a man outside a Washington, D.C. hotel after he attempted to jump into a photo Brown was taking with some fans. The singer spent 36 hours in jail. The next day the charge was lowered to a misdemeanor and Brown was ordered to meet with his California probation officer within two days. Three days later Brown voluntarily entered rehab but ended up getting kicked out of the facility for violent behavior and disregarding program rules.
Reasons for Being Denied Entry to Canada
There are a whole host of reasons you can be denied entry to Canada, but Canadian officials reserve the right to evaluate each case on an individual basis. A decision is made when you apply for a visa or attempt to enter the country.
Being convicted of a crime, including a DUI, is one reason you can be prohibited from entering Canada. Many suspect this is probably why Chris Brown was not allowed in the country.
People suspected of being connected to organized crime can be denied entry.
If your condition is believed to threaten public health and safety, you may be refused entry.
Individuals who are considered security threats and suspected of espionage, subversion or terrorist activities, can be prohibited from entering Canada.
Anyone suspected of war crimes or crimes against humanity can be denied entry.
2013 Canadian Controversy
The February 2015 incident is not the first time Chris Brown has had problems in Canada. In 2013, he was supposed to headline the Energy Rush festival, but after thousands signed an online petition in protest he was dropped by the promoter. The festival was called off including scheduled shows in Halifax, St. John, Toronto and Winnipeg.
2010 United Kingdom Denial of Entry
Canada is not the only country where Chris Brown has been unwelcome. In 2010, British officials refused to grant the singer a visa due to his criminal history. Planned shows in Glasgow, London, Birmingham and Cork, Ireland were cancelled.
Chris Brown and Canada don't appear to mix. If the singer can clean up his act, he may eventually be allowed in the country, but don't hold your breath.