The Sherpas of Mt. Everest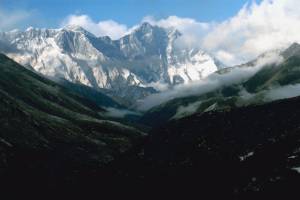 Each year dozens of mountaineers attempt to summit Mt. Everest, the world's tallest mountain. It stands at 29,029 feet and is located on the border of Nepal and China. April and May are the best months to climb Everest. Many of the mountaineers rely on the help of Sherpas, indigenous Nepalese mountain people, in their quest to get to the top of Everest. Sherpas are elite climbers and are hired for their experience, knowledge of the mountain and hardiness at high altitudes. They serve as guides and transport gear and supplies for the climbers. Some people believe Sherpas have developed, over time, a genetic high altitude adaptation.
Religion of the Sherpas
Over 92 percent of Sherpas are Buddhists. Sherpas believe there are many gods and demons that inhabit the mountains, caves and forests. These deities must be worshipped and pacified through ancient every day customs. They consider the mountains holy and revere Everest as the "mother of the world." According to Sherpas, Everest and the surrounding mountains are blessed with spiritual energy and should be treated with veneration by all who travel through this sacred place.
Sherpas believe in karma which, at a basic level, means if you have good intentions and do good deeds you will be endowed with future happiness. Bad intentions and deeds will result in eventual suffering. Sherpas think karma intensifies on Everest and people should make every effort to ward off unclean thoughts. 
Sherpa Deaths on Everest in 2014
There have been 100s of Sherpa guides and many climbers who have died over the years on Everest. The 2014 climbing season was particularly terrible. Sixteen guides lost their lives on April 18 on the Khumba Icefall, one of the most dangerous sections of the mountain. This was the deadliest day on Everest in history.
The government offered minimal compensation to the families; it was barely enough money to cover funeral expenses. This greatly offended some of the relatives of Sherpas who had been killed. A lot of revenue comes into Nepal each year from foreign mountaineers and, despite the accident, the government strongly pushed to continue the climbing season.
After the funerals, other Sherpa guides refused to participate in any more scheduled Everest climbs for the remainder of the 2014 season. They stated this was out of respect for the dead and in protest to a long history of dangerous work for low pay. The government ultimately did pay more money to the families of the deceased, but it was still considered by many as an inadequate response.
Efforts to Help the Sherpas
Various mountaineering groups have been involved in trying to improve working conditions for the Sherpas in light of last year's accident. This endeavor includes proposals on new compensation standards for the guides, insurance and enhanced safety conditions.
A new route is in the process of being developed on Everest in an attempt to make it safer for Sherpas and climbers. Veteran Everest climber Pete Athans, who is working on the project, conceded it will never be truly safe just the "the least bad of the bad options."
Legendary Sherpas
There are been a handful of Sherpas who have achieved significant notoriety. They include:
Tenzing Norgay
Norgay is considered by many people to be the most acclaimed Sherpa of all time. He summited Everest in 1953 with Sir Edmund Hillary. They were the first people to accomplish this feat.
Pembe Dorjie and Lhapka Gelu
Dorjie and Gelu competed to see who could summit Everest the fastest in May of 2003. It took Dorjie 12 hours and 46 minutes.  Three days later, Gelu beat Dorjie's time by two hours. In 2004, Dorjie reached the top in 8 hours and 10 minutes. 
The Sherpas and Mount Everest have been linked for a long time. Hopefully their working conditions will improve and they will receive more recognition for their contributions.