The Religion of Hockey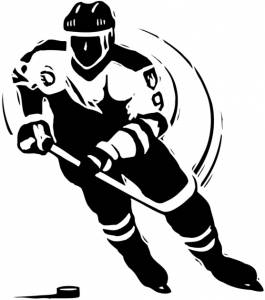 Hockey is religion to many Canadians, but the actual religious beliefs of the men who play the game are often a much more taboo topic. Hockey players, with a few notable exceptions, are some of the least vocal athletes when it comes to professing their spirituality.
The Influence of Religion in Other Professional Sports
Many other professional sports teams welcome displays of religion. It is not uncommon for NFL players to participate in a pre-game prayer or an on-field post-game one on bended knee. Similar demonstrations of faith are also prevalent in the NBA and MLB. NASCAR drivers take part in an invocation before each race. Quarterback Tim Tebow and basketball superstar Jeremy Lin are both devout Christians and don't hesitate to let others know.
The Impact of Harold Ballard
The inherently reserved Canadian culture is one reason hockey players may be less likely to readily acknowledge their religious beliefs. Another is the comments made by deceased Maple Leafs owner Harold Ballard in the early 1980s. He publicly berated centre Laurie Boschman numerous times, including after a post-season loss to the New York Rangers, claiming his born-again Christian beliefs made him "soft."
The incident became a big news story and the 20-year-old Boschman had to defend his spirituality to the international media. He did not back down and said the Maple Leafs owner was ignorant about Christianity. However, hockey is a tough guy's sport, and the impact of Ballard's criticism left a lasting impression. Boschman more than proved him wrong and went on to a successful career playing for Edmonton, Winnipeg, New Jersey and Ottawa, where he was named team captain. Today, Boschman organizes chapel programs for the NHL and is the Senator's team chaplain.
NHL Exceptions to the Rule
There are a handful of NHL players who are very open about the role of Christianity in their lives. Religion has also become more mainstream in hockey than it was in the days of Harold Ballard.
Mike Fisher was born in Ontario and is a forward for the Nashville Predators. His wife is Grammy-winning country singer Carrie Underwood. Fisher was raised in a devout Christian household and has always been outspoken about his spirituality. His uncle was also the team chaplain for the Toronto Blue Jays. The book Defender of the Faith: The Mike Fisher Story by Kim Washburn discusses the role of religion in his life and how he also always puts God first.
Saskatoon-born goalie Dan Ellis had a different upbringing than Fisher. His parents divorced when he was 11, and he was a troubled teenager. The turning point came when his father signed him up for a Christian hockey camp. From that point on, religion and hockey were the most important things in Ellis's life. He currently plays for the San Antonio Rampage and sports a cross on the back of his goalie mask.
Phoenix Coyotes captain Shane Doan grew up in a small town in Alberta. In addition to his love of hockey, he knew he wanted to help others and has become a mentor to young players. Doan is very committed to his family and says his wife and children are gifts from God.
Hockey Ministries International
Hockey Ministries International (HMI) is a faith-based organization that has been working with the hockey community since 1977. It now has a presence in 35 leagues and serves junior and NHL players. HMI provides non-denominational chapel services, and any interested team can also have an assigned chaplain. The organization is not officially endorsed by the NHL, but is permitted to send periodic emails to coaches and team management informing them of its services and programs.
Religion and hockey are far from synonymous. However, more players are becoming comfortable openly embracing their spiritual beliefs.