The Importance of Parental Leave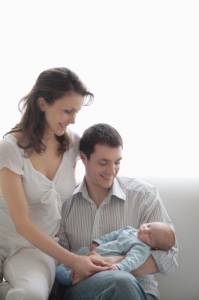 Becoming a parent can be one of life's most rewarding experiences, but life changes dramatically after your bundle of joy comes home. There are many wonderful moments, but also numerous sleepless nights. Parental leave gives mothers and fathers time to adjust to new schedules and roles as well as more opportunities to bond with their children. Canada has one of the most generous parental leave policies of any country.
Parental Leave in Canada
Canadian mothers who have worked for a company for at least six months are eligible for 17 weeks of maternity leave at 55 percent of their regular salaries. Either parent can take an extra 35 weeks (or the 35 weeks can be split between parents), and wages during this period vary by province. Quebec gives fathers an additional five weeks of paternity leave. On average, Canadian mothers take 31.5 weeks of maternity leave. Roughly 10 percent of fathers actually use paternity leave, and those who do take approximately 13 weeks.
Around the World
As of 2012, 178 countries offered paid leave for mothers, and 50 provided some wage benefits for dads. America gets a failing grade. The U.S., Liberia, Swaziland and Papua New Guinea are among a handful of nations that offer no financial assistance for new parents at a federal level. Here are a few of the top countries in the world for family leave.
Sweden has been rated the number one country for parental leave. Mothers are given 420 days off and paid 80 percent of their salaries while on maternity leave.
Denmark, Serbia and Croatia
These three nations offer mothers 52 weeks of maternity leave at 100 percent of their regular wages.
The U.K. also has a family-friendly parental leave policy; mothers are given 365 days off and compensated at 90 percent of their salary.
In Bosnia and Herzegovina, mothers can take a year off after giving birth. They receive 82 percent of their salary for the first 30 days and 75 percent thereafter.
United States
While the U.S. is near the bottom when it comes to federally mandated compensation for new parents, there are some American companies that have enviable parental leave policies.
Tax consulting firm Ernst & Young offers women 39 weeks of paid maternity leave.
New moms who work at technology company Cisco get six months of paid time off after having a baby.
Search giant Google is revered for it parental leave policy. Mothers get 18 weeks of paid leave. Dads can take 12 weeks of paid paternity leave and 18 weeks if they are primary caregivers. There is also on-site daycare at Google's Mountain View, California, campus.
Facebook offers four months of paid leave to mothers, fathers and adoptive parents. Another perk is a $4,000 "baby bonus" that couples can use however they want. At Facebook's Menlo Park headquarters, there are designated breastfeeding rooms. The company also provides monetary assistance for adoption services and egg freezing.
Technology giant Apple also has a coveted family leave policy. Pregnant employees can take up to four weeks paid leave before they give birth and 14 weeks after delivery. Fathers and non-birth parents are eligible for six weeks of paid leave. Apple also pays for egg freezing for female employees.
Yahoo CEO Marissa Mayer famously took only two weeks of maternity leave herself, but made some significant changes to the company's parental leave policy. Yahoo offers 16 weeks of paid maternity leave and eight weeks of paid time off for fathers and adoptive parents. A $500 bonus is given to parents for baby expenses, and Yahoo will also cover $5,000 of adoption-related costs.
Parental leave is important for mothers, fathers, babies and the rest of the family. Canada is a leader on this issue. Hopefully, the United States and other lagging countries will make efforts to close the gap.