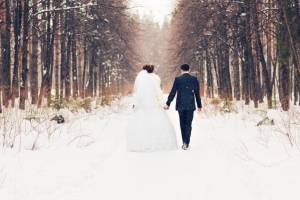 December seems to be a time for getting engaged. It's a magical time of year. There's snow on the ground. Homes are decorated for all the upcoming festivities. Families are together for the holidays, which makes it easier to make that special announcement. After the engagement, it's time to pick a date. Although June is a traditional month in which to hold your special day, consider a winter wedding. You'll have a year to plan, which gives you plenty of time. But even beyond the time factor, there are many other reasons to choose the enchanting months of November through February for your wedding day.
It's the Off-Season
Summer and fall are the most popular times of year to hold a wedding. Winter comes in dead last. Having a wedding in January means that you aren't fighting with dozens of other couples for the same venues and vendors. You may even score a discount on your location, DJ, or photographer. It pays to ask if there is an off-season rate for a venue. Guests may get discounts on travel if your date doesn't fall on a major holiday. Hotels often offer better pricing during winter months. Ask a travel agent about when you can get the best winter rates into your city. 
Special Considerations
When marrying in the winter, you do need to make special plans for problems that may occur. Don't forget to consider these things when planning.
Inclement weather – ask the "what if we have a blizzard?" question as you are booking your vendors and venues. Many places have a weather-related cancellation policy.
Lighting – The days are shorter, which means you won't have outside light for pictures if you want them. Make sure you remember to get the pictures you want before it gets dark.
Warmth and comfort – With summer weddings, guests can often walk from their hotel to the church or reception. You may need to make other arrangements for a winter ceremony. It may also be a good idea to have a few blankets on hand for older guests who get chilled more easily.
Flowers – While some flowers may be difficult to obtain, you aren't completely limited during this season. You may even have some options that you don't have in the summer. Check with your florist in plenty of time to order what you want.
Watch the Holidays
Roses go up in price around Valentines' Day, and florists are extremely busy. What you saved on your reception hall may be spent on flowers or other accommodations if you aren't aware of the dates. Taking a honeymoon over certain time frames can dramatically increase the cost too. However, if the entire family is coming home for the Christmas holidays, it could save a lot of money for your guests by holding the ceremony while they're home. You know your family best. Think about their needs too.
The Beauty of the Season
Winter color schemes can be more dramatic than summer ones. If your reception hall offers fireplaces, you can have a cozy fire going to add to the ambiance. Candles are another way to increase lighting and improve the overall atmosphere. You may even have the option of a sleigh ride to the ceremony, instead of the traditional limo. Brides and guests can get out their furs and boots, which adds a special fashion element to the day.
Winter weddings can feel even more intimate than one held in the summer, but planning is required. Consider the special elements before you cross a January wedding off the list. You may be surprised how much the season has to offer. You'll have an excuse to take an anniversary trip every winter thereafter. What more could you ask for?