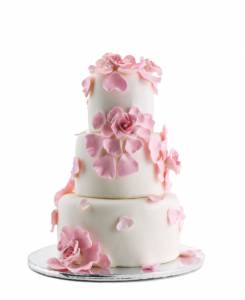 A classic wedding cake will never go out of fashion, but it is certainly not a requirement for getting married. A wedding is often a unique expression of a couples' personalities. Why should the cake be any different? Patricia Truchom, a Quebec bride-to-be, recently celebrated her bachelorette party with a custom-made poutine wedding cake.
Poutine
Poutine is a traditional Canadian snack food consisting of French fries and cheese curds topped with brown gravy. The dish originated in Quebec and is now served throughout Canada. It can also be found in the United States in the upper Midwest, New England and the Pacific Northwest.
Truchom originally ordered a poutine for 12 for her bachelorette party from the Quebec snack bar Patate Mallette. The cooks decided to go all out for the request and created a three-tiered poutine cake. The end creation weighed 12 kilograms (26 lbs.), the majority of which was French fries. Even a small portion of poutine is very fattening; Truchom's poutine cake was estimated to have contained approximately 35,000 calories.
Other Wedding Cake Alternatives
While poutine is probably one of the more unusual choices, there are many alternatives to the conventional wedding cake.
Pancake or waffle wedding cakes can be a delicious, fun choice. If you are planning a brunch reception, they are particularly appropriate. Berries, whipped cream, powered sugar and syrup are wonderful garnishes.
A croquembouche is a tower of puff pastries topped with caramel threads. This French dessert is an elegant choice for any wedding. Strawberries can also be inserted among the pastries for a touch of color.
Cupcakes can add a more personalized touch and are easy to serve. They are stunning when arranged in a tower. Incorporating flowers that match the bouquets of the bridal party are one way to decorate a cupcake stand.
Cake pops are another popular and creative alternative to the standard wedding cake. Frosting them in the colors of the wedding party is one way to tie the dessert into the overall theme of the nuptials.
Many guests probably have not attended a wedding where they get to pick from a stack of assorted gourmet donuts. If you like them with chocolate icing, sprinkles or filled with cream, this alternative can be a fun choice, particularly for more casual weddings.
What says love better than a cannoli? This delicious Italian dessert is made of tube-shaped, fried pastry shells stuffed with sweet filling.
A variety of artisan cheese wheels stacked on top of each other and adorned with fruit can make a lovely wedding cake. For couples who are not huge fans of sweets, this is an alternative well worth considering.
A cake made out of pieces of sushi is a sight to be seen. For lovers of seafood and Japanese cuisine, it can be the perfect substitute for a traditional wedding cake.
Serving cookies instead of cake is another option. Consider having them decorated with tuxedos, the date of the wedding or the happy couple's initials.
Pies are another great option for a wedding dessert and can be stacked in tiers in lieu of a cake. This dessert is more rustic and fits right in if your nuptials are in a more rural location.
Desserts that guests can assemble themselves can be very fun; chocolate, graham cracker and marshmallow s'mores fit the bill. If your affair is more causal, you may even consider letting people roast their marshmallows over a campfire.
Some couples opt for a dessert bar of miniature sweet treats. Popular choices include petit fours, brownies, éclairs, macaroons, cookies, nonpareils and whoopie pies.
Some type of dessert is typically served at most weddings. Poutine may not be your first choice, but there are many other wonderful alternatives.