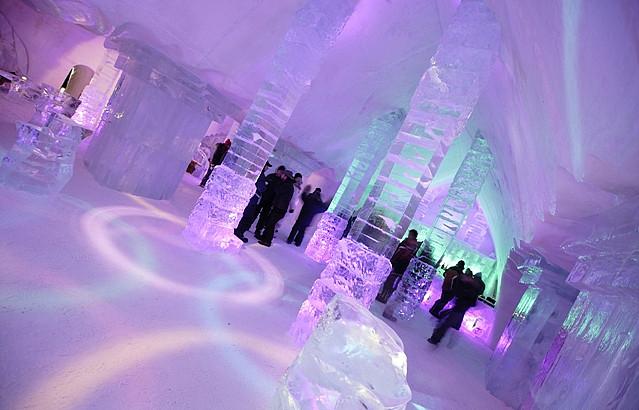 Married life is an adventure.  Some couples take that quite literally when choosing a place to tie the knot.  From outer space to an ice hotel, shark tank to Dracula's castle, here are some of the more bizarre places to get married.
1.     Outer Space
Do you want a wedding that is out of this world?  If you buy tickets on a Virgin Galactic flight you can say your "I do's" I space. The company owned by billionaire Richard Branson plans to start taking commercial space flights this year. Tickets are $250,000 per person and the Virgin Galactic has already sold 680 seats.  Flights will take off from New Mexico and fly to the uppermost part of the atmosphere where passengers will experience weightlessness.
2.     Ice Hotel Swedish Lapland
For a bride and groom who truly want a white wedding, look no further than the Ice Hotel located in northernmost Sweden.  This unique hotel is one of the more unusual places to get married. It rebuilt every year in November and December from snow and ice harvested from the nearby River Torne. The hotel's chapel features an ice altar and pillars, and reindeer blankets designed to keep the chattering of teeth by wedding guests to a minimum.
3.     Shark Tank
If your idea of a fun wedding involves being surrounded by predators, getting married in a shark tank can be a great choice.  Saying your vows in close proximity to fish that can kill you may provide a renewed appreciation for every day, ordinary married life.
4.     Scott Island, Antarctica
Having your wedding on Scott Island, Antarctica is one way to keep the guest list to minimum. This uninhabited island off the coast of Antarctica is one of the remotest places on earth, and only accessible by helicopter. In 2009, Molly Kendal and Andrew Perry were the first couple ever married on Scott Island.
5.     Dracula's Castle, Transylvania
Tying the knot at Dracula's Castle in Transylvania, Romania can be the perfect weird alternative for a couple who wants to start married life off with a fright.  The castle is connected to Vlad the Impaler; the 15th century Romanian warlord who was the inspiration for the Dracula stories.
6.     The Great Wall of China
While some may consider the Great Wall of China a strange place for a wedding ceremony, the venue has been the setting for many love stories over the centuries.  The Wall is over 13,000 thousand miles long wall and is visible from space.
A wedding is unique expression of the tastes and personalities of a bride and groom. For some couples, tying the knot in one of the more unusual places to get married is the perfect fit.