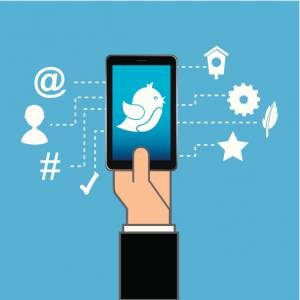 Twitter is one of the predominant social media platforms available today. The company was founded in 2006 and has grown exponentially since then. More than 350,000 tweets are posted per minute, and over 500 million are sent per day. In addition to everyday people, politicians, movie stars and spiritual leaders are also finding it an effective way to communicate with and inspire their followers.
Dalai Lama: @DalaiLama – 11.8 M followers
The Dalai Lama is a Buddhist monk who won the 1989 Nobel Peace Prize. He has one of the largest Twitter followings of any spiritual leader and tweets every couple of days. His posts are filled with messages of peace, happiness and compassion. Some recent tweets are:
"The use of force and violence inevitably entails unanticipated consequences, but rarely yields a solution." – August 21
"To create a happier humanity we have to pay more attention to our inner values, whether we are religious or not." – August 3
"To cultivate genuine compassion we need to take responsibility for our own care and have concern for everyone's suffering, including our own." – July 27
Pope Francis: @Pontifex – 6.89 M followers
The papacy of Pope Francis began on March 13, 2013. He has had a profound effect on the religious and secular alike, and is proving to be a religious force with whom to be reckoned. The pontiff has also amassed 6.89 million Twitter followers, which is a far cry from his predecessor's (Pope Benedict) 12,700. Every two to four days, he tweets messages of benevolence and God's love. Some recent tweets are:
"A Christian too attached to riches has lost his way." – August 25
"Reading the Gospel each day helps us overcome our selfishness and to follow Jesus our teacher with dedication." – August 21
"Hospitality in families is a crucial virtue today, especially in situations of great poverty." – August 1
"We are all sinners. Let us be transformed by God's mercy." – August 8
Joel Osteen: @JoelOsteen – 3.89 M followers
Joel Osteen, a preacher and New York Times best-selling author, is the pastor of the biggest Protestant church in America. Every week, more than 44,000 people fill a former basketball area to watch him live, with another seven million tuning in on television. Osteen is also extremely active on Twitter and typically posts twice per day. His messages are inspirational and motivational. Some recent tweets are:
"You were created to overcome every obstacle, to rise above every challenge. Not just to survive – to thrive!" – August 26
"You may have a negative past, but you don't have to have a negative future. This is a new day. Make the most of it." – August 25
"You didn't just happen to show up on planet earth. God had a plan for you long before you arrived." – August 21
Deepak Chopra: @DeepakChopra – 2.57 M followers
Deepak Chopra is a renowned author and public speaker; he is also a doctor and vocal proponent of alternative medicine. Chopra was born in India and immigrated to the United States in 1970. He is prolific on Twitter (presumably, he has someone helping him), sometimes tweeting up to eight times per day. He interacts with his followers and frequently retweets messages. His posts are filled with New Age spirituality. Some recent tweets are:
"Each one of us is created with an inherent light within – a light made up of limitless spiritual power." – August 27
"Yoga is the connection to the source field beyond space and time." – August 25
"A compassionate heart, tapping into the inner ocean of unconditional acceptance, flows in waves of love." – August 23
Much can be said in a 140-character tweet. Spiritual leaders who have jumped on the Twitter bandwagon are making the most of every post.