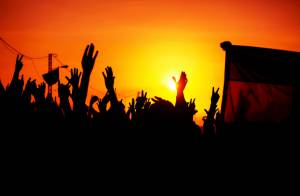 Raif Badawi, a Saudi Arabian blogger, was sentenced in 2014 to 10 years in prison and 1000 lashes (50 lashes a week for 20 weeks). He was also fined 1 million Saudi riyals (approximately C$317,000). The former blogger has been in prison since the middle of 2012. Badawi was accused of insulting Islam and the country's powerful clerics through his liberal blog posts. The first flogging took place on January 9, 2015 in front of a mosque. The second one was scheduled for January 16, but postponed for "medical reasons."
The Canadian Connection
Ensaf Haidar, Badawi's wife, and the couple's three children now live outside of Montreal in Sherbrook, Quebec. They were given refugee status when they arrived in Canada in October of 2013. Haidar is 35 years old and now has permanent residency.
A Secret Relationship
Badawi and Haidar originally became acquainted by cell phone. Haidar's brother would let her borrow his phone to make calls. Badawi was one of her brother's friends, and one day she wound up having a conversation with him on the phone. Over the next two years, the couple would talk by phone in secret. Saudi women are not permitted to show their faces to strangers of the opposite sex, so the pair would attempt to catch brief looks at each other through open doors and windows. If caught, they could have been in serious trouble. Her parents eventually became aware of the relationship and tried to end it. According to Haidar, "That's when Raif proposed. His kindness got the best of their resistance." When Raif was banned from leaving Saudi Arabia in 2009 due to his inflammatory blog posts, her family attempted to force her to divorce him. She refused and stopped speaking to them.
The First Lashing
Haidar has reportedly viewed leaked cell phone video of her husband's first flogging session. The video reportedly shows Badawi standing and shackled as he is repeatedly struck on his back and legs. She said, "Every lash killed me." Her husband is diabetic and of slight frame, which further contributes to Haidar's anguish over his punishment.
Medical Complications
The second flogging session was scheduled for a week after the first. However, after a medical check-up, it was postponed. The doctor who examined Badawi determined his wounds had not healed to a point where he would be able to endure more lashes. His recommendation was to delay the next round until the following week.
Since the postponement, there have been some encouraging media reports that Badawi may not be subjected to any more floggings and his prison term reduced. Whether Saudi officials do in fact alter his sentence remains to be seen.
International Outcry
There has been a tremendous international outcry to the floggings and the overall handling of Badawi's case.
Siad Boumedouha, Amnesty International's Deputy Director for the Middle East and North Africa, said, "The flogging of Raif Badawi is a vicious act of cruelty which is prohibited under international law. By ignoring international calls to the flogging Saudi Arabia's authorities have demonstrated an abhorrent disregard for the most basic human rights."
The United States, Great Britain, European Union and other nations have pressed the Saudi government to stop the lashings.
Numerous Saudi academics received a letter signed by eighteen Nobel Laureates asking them to publicly condemn the lashings.
Protestors have demonstrated outside the Saudi embassies in Ottawa, Oslo, London, Germany, Belgium and the Netherlands.
Others are calling the Saudis hypocrites for denouncing the killings at the Paris office of the Charlie Hebdo magazine while they sanction brutality in their own country.
It is difficult to image living in a country where people are imprisoned and flogged for speaking their minds. One can only hope Badawi's lashings stop and he is freed, his wife most of all.