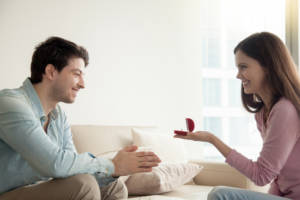 Gender roles often seem quite peculiar in modern life. When it comes to weddings, there are dozens upon dozens of tasks associated with the groom and the bride. More often than not, these responsibilities have nothing to do with a person's actual abilities and more about antiquated notions surrounding customs. Proposing, for example, has long been a job thrust upon men. Naturally, this responsibility creates confusion in LGBT relationships and most modern heterosexual romances where the man and woman play equal parts. While there's nothing unusual about a woman popping the question, there are questions that might need answering.
Know How To Take Charge  
Like many marital customs, the task of proposing typically fell on men because women were frequently forced into passive roles in a marriage. Though these old notions have fallen away for the most part, the rituals live on as relics of these bygone times. Men nowadays will take on the task of proposing simply because it is expected. However, there are countless couples who have opted to flip the script. No matter what you want from your relationship, taking charge and proposing should always come from a place of love and involve a lot of communication.
If you know your partner is not ready to get hitched and you decide to surprise him with a sudden proposal at a public event, you could be sowing the seeds of your relationship's destruction. Talking about the idea of marriage before making any concrete decisions is the best way to maintain a healthy connection with your partner.
Think About What You Both Want  
By design, romantic relationships are fraught with complicated questions and time-sensitive decisions. With a potential engagement, you need to sit with your own thoughts and consider the future. Are you ready for this level of commitment, or are you simply caught up in the intoxication love can bring? Outside of your own feelings, you must talk openly with your partner about what he or she desires. Again, deciding to put your significant other on the spot without consulting about future goals can be a disaster.
Consider the Ego Factor
Even men with open minds fall prey to bruised egos from time to time. While your partner might be open to every aspect of gender equality, he still could feel slighted if you decide to pop the question. This is another reason why a preliminary discussion can be beneficial. Your partner shouldn't allow himself to be overcome with petty emotions, but it can save yourself a headache to talk about his stance on the matter early. You know your partner better than anyone, so you should be able to figure out an appropriate way to approach the topic.
Determine the "How"
Once you feel confident that proposing is the right choice, you can tackle the "how" of it all. This is a fun task, as you can start to get as creative or personal as you'd like. The future of your relationship begins when you get down on a proverbial knee, so consider what setting and tone make sense for your love story. From isolated beach settings to surprise parties with family and friends, there are endless locations to explore.
Remove Proposing Perfection
Taking on the task of proposing can put a lot of pressure on you. In the age of Instagram and Pinterest, it is easy to get caught up in the notion that your engagement needs to be worthy of sharing on social sites. Though it might be stressful, remember that you don't need to make the moment perfect for anyone other than you and your partner.
Though popping the question has long been viewed as a man's job, modern relationships often ditch these old roles for more progressive options. Figure out what works best for your partner and you to come up with a plan that satisfies you both.