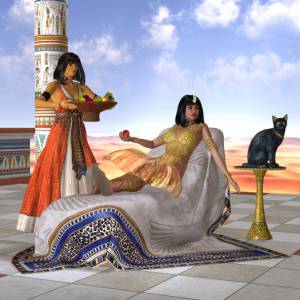 Mark Antony and Cleopatra are one of most legendary couples of all time. Their doomed relationship was the subject of the William Shakespeare play Antony and Cleopatra, first performed in the early 17th century. In June, Manitoba theater company Shakespeare in the Ruins is staging a uniquely Canadian dramatization of the famous Shakespeare tragedy.
Mark Antony and Cleopatra
Mark Antony and Cleopatra ruled around 40 B.C. In Shakespeare's play, they have an ill-fated, illicit relationship even though Antony is married to the sister of one of the most powerful rulers of the Roman Republic. Antony and Cleopatra both ultimately commit suicide due to the collapse of their empire and a series of misunderstandings.
The setting of the Shakespeare in the Ruins production is Canada's pre-Confederation period, which was prior to 1867. Indigenous Canadians of the era portray the roles of Cleopatra and the ancient Egyptians. Antony and the Romans are represented by European fur traders. This interpretation of the literary classic emphasizes the themes of colonization and empire building, which was as applicable in 19th century Canada as in the time of Mark Antony and Cleopatra.
Other Famous Literary Couples
While Mark Antony and Cleopatra were real people, they are a popular literary couple as well. In addition to Shakespeare's play, their lives were dramatized in other plays, operas and film. There are numerous other famous literary couples. Some who lived happily ever after and others who suffered tragic endings like Antony and Cleopatra.
Anne Shirley and Gilbert Blythe, Anne of Green Gables Series
While not as famous as Mark Antony and Cleopatra, Anne Shirley and Gilbert Blythe are probably one of most well-known Canadian couples of all time. Their relationship gets off to a bumpy start in Anne of Green Gables, the first book in the Lucy Maud Montgomery authored series, set in early 20th century Canada. Their affection blossoms to love and they have numerous ups and downs over the course of their early lives and later marriage.
Elizabeth Bennett and Fitzwilliam Darcy, Pride and Prejudice
Pride and Prejudice, written by British author Jane Austen, was originally published in 1813. The novel has become one of most beloved romances of all time and was set in 19th century England. The story revolves around the relationship of Elizabeth Bennett, the second daughter of an English country gentleman, and Fitzwilliam Darcy, a wealthy aristocrat. The two originally despise each other, but end up madly in love despite a variety of obstacles to their relationship including coming from different social classes.
Another tragedy by William Shakespeare, Romeo and Juliet is the story of two star-crossed lovers from the warring Capulet and Montague families. The couple meets by accident at a ball and later secretly marries. Juliet's parents arrange for her to marry someone else, not knowing she is already married to Romeo. They threaten to disown her if she does not go through with the wedding. Juliet takes a drug that puts her sleep before her arranged marriage so her family will think she is dead. Romeo finds her and, believing she is dead, kills himself by drinking poison. Juliet awakens and finds Romeo dead. Not wanting to live without him, she stabs herself with his dagger.
Hermonine Granger and Ron Weasley, Harry Potter Series
Hermonine Granger and Ron Weasley don't officially become a couple until the very end of the seven-book series by J.K. Rowling. At first, they seem like an unlikely pair because Hermonine is the smartest student in the class and a goody-two-shoes, and Ron is more of a slacker and a lot less concerned about following the rules.
Love stories are one of most popular literary genres. Whether the couples are from ancient Egypt, pre-Confederation Canada, present day or anything in between, a well-told story will always captivate an audience.