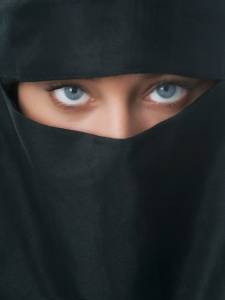 Zunera Ishaq, a woman who holds devout Muslim beliefs, moved to Ontario from Pakistan in 2008. When she was going to participate in a citizenship ceremony, she had to decline because she would be required to remove her niqab, a head veil that is a symbol of her faith and modesty. This set off a battle in the courts. On September 17, 2015, the Federal Court of Appeals upheld Ishaq's right to wear her niqab, stating that, "banning face coverings at such ceremonies was unlawful."
Head Coverings – What's the Difference?
Muslim women wear different types of head coverings. If you aren't familiar with these articles of clothing, the names can be confusing. Here is a primer:
Hijab – A hijab covering is the most common in the West. It covers the head and neck while leaving the face clear.
Niqab – A niqab is a veil for the face that usually leaves the eyes clear. It's typically worn with a headscarf.
Burka – A burka is a one-piece veil that covers the face and body and has a mesh screen for the eyes to see through.
Shayla – A shayla is a long scarf that is wrapped around the head and leaves the face clear.
Chador – A chador is a full cloak that covers the entire body and is typically worn when outside the house.
The Argument Against Head Coverings
One of the reasons that the government is arguing that Muslims should remove their veils during the citizenship ceremony is so they can hear them say the oath. However, it is possible to hear someone speak under the veil. Another argument is that of identification. Again, women who wear these garments are willing to accommodate the need to be identified. One survey of Muslim women found that they would be happy to remove their veils for facial identification. Wearing veils during the ceremony doesn't change who they are.
Earlier this year, Canadian Prime Minister Stephen Harper went so far as to condemn the wearing of the niqab because it is "rooted in a culture that is anti-women." The Conservatives are being charged with practicing divisive policies because they have taken this fight over the niqab so far. The Conservatives say that they will appeal the most current ruling of the Federal Court, making some wonder why it is so important to them when the women are not complaining.
Freedom of Religion
Advocates for the right to wear the niqab believe that it is a restriction of religious freedom when the state tries to use its power to dictate what a woman can or cannot wear. Justin Trudeau believes that in a free country such as Canada, individuals should have the right to wear a niqab, just as others can choose to dislike it. However, the state itself should not be in the middle of it unless it poses a threat to society.
How Do You Respond to a Woman Wearing a Niqab?
The Canadian Council of Muslim Women (CCMW) surveyed Muslim women across Canada to give them a voice by asking why they wore the niqab. Not one of the women surveyed answered that they are forced to wear the veil. The two most common reasons that women gave for wearing it were for religious beliefs and personality identity. The CCMW is working to ensure Muslim women are not denied their rights just because so many people do not understand this minority.
If you are in a position of authority and need to see a woman's face for identification purposes, politely explain your position and make the request. A woman may be more comfortable allowing another woman to identify and see her face, but most agree that they have to cooperate with the government as part of their religion. Otherwise, you should just consider the niqab as any other item in a woman's attire. Respect their choices, even if you don't agree with them. As for Ishaq, she plans on taking her lawyers to the citizenship ceremony, just in case.