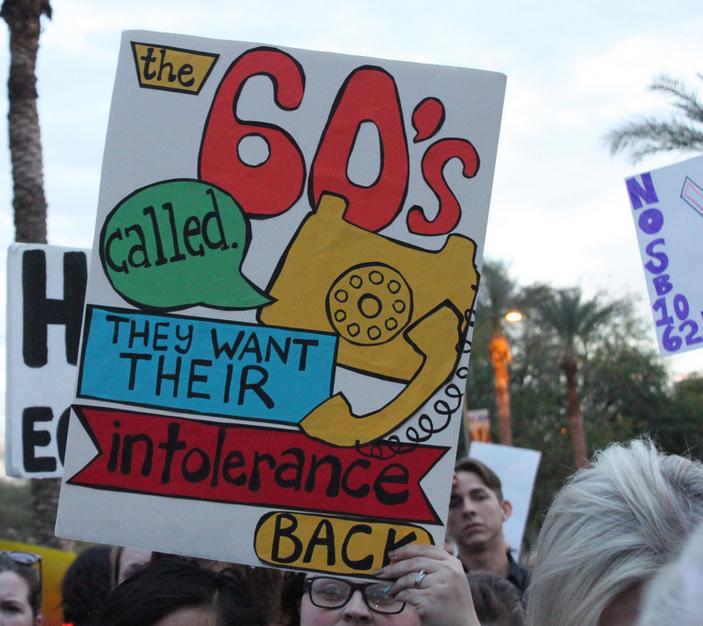 This February, the State of Arizona received considerable attention throughout North America. Attention was focused on a bill that would have allowed business owners to refuse service to customers on religious grounds. The bill was specifically intended to protect business owners from lawsuits resulting from a decision to deny service to lesbian or gay customers on grounds of strongly held religious belief. However, critics of the bill pointed out that it could have numerous unintended consequences. Republican Governor of Arizona Jan Brewer ultimately chose to veto bill, though not before many voices weighed in. In contrast to a number of other recent legislative actions that took place in the United States, this bill had nothing to do with gay marriage.
Is Discrimination a Religious Right?
Proponents of this controversial bill said that personal religious freedoms were being protected by allowing people to express their religious beliefs without fear of lawsuit. Though a few business owners have been named in lawsuits alleging discrimination, these lawsuits took place in locations where discrimination on the grounds of sexual orientation was already illegal. Additionally, the services refused were specifically related to gay marriage ceremonies; bakers, florists, and other service providers who denied customers planning a gay marriage did so on the grounds that their religious convictions held that homosexuality was wrong.
The Arizona bill would have given business owners blanket permission to refuse services to customers, giving rise to questions about how the owners would ascertain whether or not a customer was actually gay. Even prominent Republic politicians argued that this bill would make it too easy to discriminate against people while using religion as a mask; Governor Rick Scott of Florida and former Presidential candidate Mitt Romney expressed hesitation over the bill on precisely these grounds. Gov. Brewer chose to veto bill, saying that it "does not address a specific or current concern related to religious liberty in Arizona."
Other Impacts of the Proposed Bill
The financial impacts this proposed legislation were felt even before Gov. Brewer opted to veto bill.
The National Football League (NFL) began looking for alternative locations to hold next year's Super Bowl, even though a location in Arizona had already been selected.
The Hispanic National Bar Association canceled its annual convention, already slated to take place in Arizona.
Businesses across the state worried that their income and reputations would be harmed if the Governor did not veto bill.
Major corporations, including Apple and American Airlines, threatened to withdraw their business from the state.
Though gay marriage is perhaps the civil rights concern most widely recognized as being important to gay and lesbian members of our human family, there are numerous other challenges that are even more pressing. Access to the public marketplace without fear of discrimination is important to everyone.