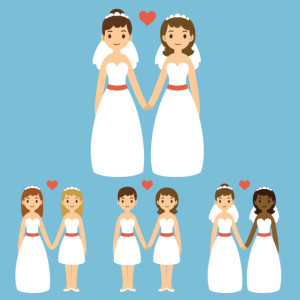 Almost 10 years after same-sex unions were legalized in Canada, America has followed suit. On June 26, the United States Supreme Court made them the law of the land in a historic 5–4 decision. Thirty-seven states had already authorized gay weddings prior to the Supreme Court permitting them nationwide.
Division in the Court
The Supreme Court justices were strongly divided on this issue, as many American have been over the years. The four who dissented, including Chief Justice John Roberts, took the unusual step of each writing their own opinions.
Justice Anthony Kennedy wrote for the majority and said, "No union is more profound than marriage, for it embodies the highest ideals of love, fidelity, devotion, sacrifice and family. In forming a marital union, two people become something greater than once they were. As some of the petitioners in these cases demonstrate, marriage embodies a love that may endure even past death. It would misunderstand these men and women to say they disrespect the idea of marriage. Their plea is that they do respect it so deeply that they seek to find its fulfillment for themselves. Their hope is not to be condemned to live in loneliness, excluded from one of civilization's oldest institutions. They ask for equal dignity in the eyes of the law. The Constitution grants them that right."
Canada and Gay Marriage
In Canada, gay marriage was legalized nationwide on July 20, 2005 with the passage of the Civil Marriage Act. It was the fourth country to do so. Over 75 percent of the nation's provinces and territories were already allowing homosexual couples to wed. Ontario was the first place to permit it and started issuing marriage licenses in June of 2003. British Columbia followed suit in July of the same year. Canada has never had a marital residency requirement and couples from the U.S. would cross the border to tie the knot.
Australia
Australia is one of the few English-speaking countries that does not allow homosexual couples to marry. Besides Canada and the United States, the following nations all permit same-sex unions:
South Africa
New Zealand
United Kingdom
Ireland
Australian Prime Minister Tony Abbott has been a staunch detractor of same-sex weddings, and the recent U.S. Supreme Court ruling doesn't appear to have softened his stance. Shortly after the decision was announced Abbott stated, "What happens in the US is a matter for them."
The Australian Marriage Act of 1961 has a line in that reads, "Marriage, according to law in Australia, is the union of a man and a woman to the exclusion of all others, voluntarily entered into for life." In Australian wedding ceremonies this language must be read aloud.
In February, Australian couple Abbie and Mitch Johnson made a rather unusual request at their wedding. They asked their officiant to please tell everyone to cover their ears in protest when the controversial sentence was being spoken. The guests were happy to oblige. The bride later wrote on her Facebook page, "Some of you may not know, but for a marriage to be legal in Australia your celebrant has to state that a marriage is between a 'man and a woman' only. Our celebrant has to say it but we certainly didn't have to listen to that bull****. So we had our awesome celebrant kindly ask our guests mid ceremony to cover their ears. I hope one day soon this terrible, archaic, unjust law is abolished in Australia. Until then be kind, be proud and stand up for what you believe in."
Canada has been at the forefront of gay rights. The United States is beginning to catch-up. Hopefully, the situation in Australia will improve with time as well, but it may be necessary to elect a new PM in order to make serious progress.