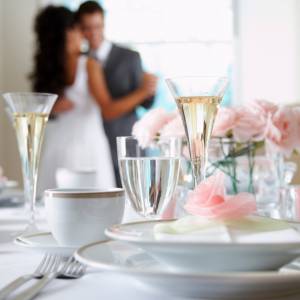 Summer is prime wedding season, and August 2015 has been particularly spectacular. It is difficult to imagine another month topping it. Some of the couples who have tied the knot in August are royalty, TV stars, athletes and politicians.
Famous Weddings: Beatrice Borromeo and Pierre Casiraghi – August 1
Beatrice Borromeo and Pierre Casiraghi were married on August 1. The wedding took place on Isola Bella, which is one of the Borromeo Islands located in Lake Maggiore, Italy. The Borromeo Islands have been owned and occupied by the bride's family since the 16th century. The civil ceremony was held at the Palace of Monaco on July 25. The groom is the grandson of late Prince Rainer of Monaco and the nephew of reigning monarch Prince Albert. His mother is Princess Caroline of Hanover and his father is the late Stefano Casiraghi.
Jennifer Aniston and Justin Theroux – August 5
The August 5 wedding of Jennifer Aniston and Justin Theroux has been three years in the making. Engaged since 2012, the couple surprised many of their guests who thought they were coming to a birthday party for Justin. A multitude of Hollywood stars were in attendance including: Courtney Cox (who was maid of honor), Ellen DeGeneres, Jimmy Kimmel, Sandra Bullock, Lisa Kudrow, Howard Stern, Jason Bateman, Tobey Maguire, John Krasinski, Emily Blunt and Will Arnett. The ceremony and reception took place at the couple's $21 million Bel Air estate. The dinner menu included chicken, fish and fettucine carbonara.
Kelly Enfantino and Devin Setoguchi – August 8
The August 8 nuptials of Canadian hockey player Devin Setoguchi are getting a lot of buzz for an unexpected reason. During the reception, four of Setoguchi's friends, including Chicago Blackhawks player Kris Versteeg and Jason Demers of the Dallas Stars, performed quite an exotic dance to Sia's "Chandelier." The quartet began by stripping off their shirts and slacks to reveal skin-tight body suits and donning masquerade masks. The dance video currently has over 290,000 views. Check out the performance here.
Hilary Curtis and Devon Hamilton Winters – August 14
The highly anticipated TV wedding of The Young and the Restless's Hilary Curtis and Devon Hamilton took place on August 14. Hilary is played by Canadian actress Mishael Morgan and American actor Bryton James plays Devon Hamilton Winters. Morgan was nine months pregnant when the episode aired.
Sandy Beug and Karl Fix – August 11
Sandy Beug and Karl Fix are avid travelers. They are also "serial wedders" and have been married 12 times in different places around the world. Their most recent nuptials occurred on the deck of a boat off the coast of Greenland. The couple has also exchanged vows in:
South Africa
Germany
Regina
Mali
Nepal
Ethiopia
Las Vegas
Julie Snyder and Pierre Karl Peladeau – August 15
Julie Snyder and Pierre Karl Peladeau have been together for a long time and have two children, but they decided to make it official on August 15 in Quebec City. He is a billionaire and leader of the Opposition Party in the Quebec National Assembly, and she is a TV host. Their choice of transportation to the church was unconventional; Peladeau rode a tandem bike with his son, and Snyder was driven to the church in a Tesla electric car. The wedding took place at the Musee de l'Amerique francophone in front of 400 hundred guests. Regis Labeaume, Mayor of Quebec City, performed the ceremony. 
Who's Next?
Some couples don't want to broadcast their wedding dates, but these couples are engaged and may tie the knot by year-end:
Sofia Vergara and Joe Manganiello
Hayden Panettiere and Wladimir Klitschko
Christina Aguilera and Matt Rutler
Olivia Wilde and Jason Sudeikis
Allison Williams and Ricky Van Veen
These six couples are only a handful of the ones who wed in August 2015. May they all have long and happy marriages.