Six Reasons to Have a Vineyard Wedding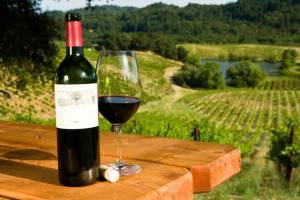 There are an astounding number of wedding venues from which to choose and it can sometimes be difficult to make a decision. More and more couples are discovering vineyards are idyllic places to tie the knot. Canada is home to numerous world-class wineries that are perfect places to get married.
Unique Location
While some of your guests may have visited a vineyard, there is a good chance that few, if any, have attended a wedding at one. People may go out of their way to make themselves available to experience something new. Many vineyards are also situated in more secluded areas which can add to the intimacy of the occasion.
Beautiful Setting
Few locations have as much natural beauty as vineyards and your wedding pictures can be the envy of friends. Fall brings beautifully colored foliage and plump grapes on the vines. In spring and summer, there is often a profusion of lovely blooming flowers, green meadows, and earthly scents. The bounty of flowers, leaves, and vines makes it easy to create romantic, elegant decorations and bouquets for the wedding party.
Great Wine!
The wine is guaranteed to be spectacular when you have a vineyard wedding. You may also have the opportunity to serve custom labeled wines that are only offered onsite. Bottles from the winery also make delightful thank you gifts for guests.
Great Food!
Wine connoisseurs are often some of the most frequent winery patrons and they are typically accustomed to fine cuisine as well. To accommodate the discriminating palates of customers, many vineyards have excellent onsite dining options. Even if they don't, there is bound to be a fine restaurant nearby that caters weddings.
Casual Elegance
Many couples choose vineyards because they provide a more rustic atmosphere. More understated attire fits right in and increases the apparel options for the wedding party and guests. The bride may opt for a bohemian wedding dress, and suits rather than tuxedos are very appropriate. The background can also help set the scene for creative wedding pictures.
Indoor and Outdoor Options
Numerous wineries have indoor and outdoor venues. Couples may choose to marry outside and have their receptions indoors. An outdoor pre-reception cocktail party is another alternative. This set-up is also highly beneficial in the event of inclement weather.
Top Spots for Vineyard Weddings
Located in scenic Kelowna, BC, CedarCreek Estate Winery Pavilion & Rose Garden has been the setting of many wonderful weddings. There are spectacular views of the surrounding mountains and lake, and the estate grounds are painstakingly and immaculately maintained. No matter the size of your event, the dedicated staff will work with you to create a highly memorable experience.
Tinhorn Creek Vineyards has several different wedding packages. It is the perfect venue for a small, intimate events and large grand occasions. The winery features lovely panoramic views of the surrounding valley. Food is cooked onsite by an award-winning chef committed to using locally sourced ingredients.
The Starling Lane Vineyard offers an incredibly picturesque, bucolic setting. Weddings and special events are its specialty. There are several indoor and outdoor choices for the ceremony and reception. The grounds also contain a stupendous assortment of beautiful flowers.
Situated just outside of Niagara Falls, Ravine Vineyard Estate Winery is a magical place to tie the knot. Many couples have held their reception under tents on the property's lush grass field. There are delightful indoor venues as well. The winery boasts an award-winning restaurant serving seasonal menus and farm-to-table cuisine.
Your big day deserves an unforgettable location and holding the event at a winery can be a wonderful choice. Canada has some of finest vineyards anywhere.