Seven Tips for an Environmentally Friendly Wedding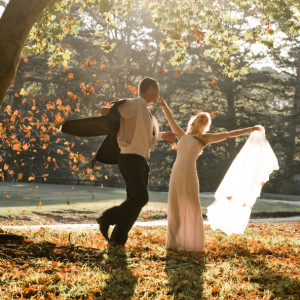 Everyone should have the wedding of their dreams, and more and more couples are choosing to have the festivities be environmentally friendly as well. Even if you are not super green, there are some simple, yet chic, ways to lighten the carbon footprint of your big day.
Buy an Ethical Engagement Ring
An ethical engagement ring is constructed of recycled materials and conflict-free diamonds from legitimate sources that have not been used to fund wars in African countries. These rings may even come in a box that has been locally made. Two companies that offer ethical engagement rings are:
Brilliant Earth has very high standards for the materials used in its jewelry and incorporates many Canadian diamonds in the designs. It also donates 5 percent of profits to African communities in need.
Do Amore offers a wide selection of lovely engagement rings made from 100 percent recycled metals and conflict-free diamonds. It has partners in third world countries who build water wells, and the company pledges clean water for life for two people for every ring purchased.
Another option is an antique engagement ring. If you are lucky enough to have a family heirloom, it can be resized by a jeweler if it does not fit. Purchasing an antique ring is also a great alternative because no new metal or stones will be mined in order to make it.
Use Online Invitations
Besides the actual wedding, it is common for friends and family to host other parties in connection with a wedding. This can add up to lots of paper. Sending online invitations will reduce waste and save money. If you really want to mail invitations, consider having them printed on recycled paper. The paper quality is constantly improving, and there are many options.
Wear an Heirloom
Some brides choose to wear their grandmother, mother or sister's dress. If you have access to a family wedding garment that you want to wear on your big day, it can be a lovely way to add special meaning to the occasion, in addition to being ecologically conscious. Hiring a local seamstress who uses non-chemically treated, sustainable fabrics like organic cotton is another way to do it. Avoiding a dress that may be manufactured in foreign countries, under unknown circumstances, can help ensure what you wear is socially mindful.
Go Local
Instead of choosing exotic flowers from a far-flung destination, consider using what is in season and grown near the location of your nuptials. The same principle applies to the food you serve. Locally sourced ingredients can be fresher and better tasting than lobster tails flown in from the East Coast, unless your wedding happens to be in Maine.
Embrace Nature
Hosting your reception outdoors, rather than in a hotel ballroom, can be more visually stunning. It can also lower electricity costs and reduce the number of discarded decorations.
Skip the Party Favors
It is estimated that as many as 70 percent of wedding favors are left at the reception by guests. If you feel you must hand them out, consider giving something that supports a local business or a fair trade product such as a jewelry made by African women. These pieces are available online and from some arts co-ops.
Make a Charitable Contribution
The supremely socially conscious may even opt to skip a formal wedding altogether and donate the money they would have spent to a worthy cause. Another other option is to ask guests to make a donation to a charity you support rather than buying a gift. These approaches are definitely not right for everyone.
A wedding is one of life's milestone moments, and the union will hopefully last a lifetime. Considering the way your nuptials will impact the environment can have a long-lasting impact as well.