Ontario Woman Uses Facebook to Find Lost Bridal Gown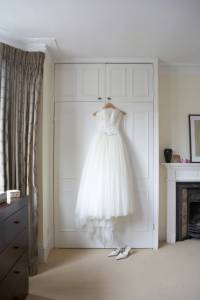 Wedding dresses are the most expensive articles of clothing some women ever wear. Many brides want to hold on to these garments for sentimental reasons, and also because they forked over a substantial amount of cash to buy them. In order to keep their dresses in optimal condition, many brides use the services of a professional dry cleaner experienced with handling bridal gowns. After the cleaning is done, dry cleaners will often put them in special tissue lined boxes for storage to keep them preserved. Brockville, Ontario resident Melissa Hoogenraad took her dress to be cleaned and boxed after her 2003 nuptials. When she opened it in 2015, someone else's dress was inside!
The Hunt for the Missing Dress
Mrs. Hoogenraad does not know what inspired her to open the box over a decade after her wedding, and was certainly not expecting the shock of realizing it contained someone else's dress. She hopes to reunite the gown with its true owner in addition to finding her own. In an effort to locate the owner and find her dress, Hoogenraad has posted several pictures of the gown in the box and the one she wore on her wedding day on Facebook.
Louise Severson, the proprietor of the dry cleaning store, said this is the first time a mix-up like this has occurred in her shop's 24 year history. She is assisting the Hoogenraads with their search. Severson has put ads online and in print, and requested names from 2003 marriage licenses from city hall. A local photographer who took pictures at 12 weddings around the same time as the Hoogenraads has also been contacted. The hope is he can spot the owner of mystery dress in his photos.
How to Preserve Your Wedding Dress
Having your dress professionally cleaned is one of the best ways to maintain the integrity of wedding gowns. All stains must be removed for optimal preservation. The more time passes, the harder it is to remove stains. Sugar stains may initially be invisible, but will eventually turn brown. Wine stains should be dealt with quickly, because they become increasingly difficult to remove.
The right wrapping materials are essential in order to best preserve wedding gowns. Clean, acid-free paper and muslin are some of the most popular options. The correct box is also essential. Ones that are acid-free or pH-neutral are the top alternatives; dresses can breathe and adapt to fluctuating temperatures.
There are two schools of thought on the necessity of sealing wedding gowns in boxes. Some companies feel it is not essential if dresses are correctly packaged. The other viewpoint thinks that sealing the box keeps insects and other pests out.
There are a fewer other things to keep in mind when it comes to safeguarding wedding dresses. One is to not wrap gowns in plastic before they are sent to the cleaners. This can trap moisture and increase the likelihood of mold and mildew growing. Avoid hanging these special dresses on regular wire or wood hangers. Doing so may stretch the fabric. Padded or plastic hangers are better choices. Let a professional clean the stains, don't try to do it yourself, or they may set in the fabric. Once you get the boxed dress back from the dry cleaners, store it in a cool, dark, dry location. Heat, light and high humidity can be highly destructive to wedding gowns so it is advisable to keep them out of attics and basements. Dry closets and under beds are good storage spots.