Making Canada Your Destination Wedding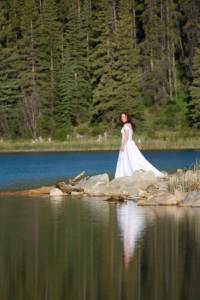 Many people think of sandy beaches and the ocean when they start planning their wedding, but if you're a fan of mountains and trees, Canada provides many lush locations, both urban and pastoral. As with all destination weddings, if you are not a resident, you need to work with the local agency to make sure you have the documents you need to get married in a foreign country. In most major cities in Canada, French and English are both understood, which makes the country friendly to many different cultures.
Alberta Destination Wedding Ideas
The Northern Lights may steal the show when you get married in Alberta, but that's not all there is to do in the area. Edmonton and Calgary both offer unique restaurants, dances clubs, and shopping. For the outdoorsy person, there are kayaking and winter sports, and with 19 lakes, you're sure to find a beach to hold a beautiful ceremony. The climate is dry, with around 300 days of sunshine per year, the most in any province or territory.
British Columbia
British Columbia is a more temperate region, sitting just off the Pacific. Victoria may be the capital, but most foreigners are probably more familiar with Vancouver, home to the 2010 Olympic Games. Sophisticated hotels in the city offer stunning accommodations, with many different locations for ceremonies, including ski resorts and wineries. The climate along the ocean beaches in the south is rainier than the interior, but it's also warmer as well.
The Atlantic Region
Your Nova Scotia wedding can include a day of whale watching as part of your pre-wedding get together. The sea life is what this province is famous for; you can't get fresher lobsters than those that are brought in by boat every morning. The main city, Halifax, is home to five universities, giving you plenty of cultural activities. There's plenty of nightlife and restaurants, but if you prefer something more rustic, you can make plans to hold your ceremony in one of the smaller sea towns close to Halifax. Summer temperatures rarely go above 80 degrees F, while winter temperatures average about 25 degrees F.
The Beauty of Ontario
Niagara Falls, one of the Seven Wonders of the World and one of the most romantic locations to hold your destination wedding, is just one and a half hours from Toronto. After the wedding, come back to Toronto and enjoy its music scene, museums, and unique pubs that offer award-winning craft beers. Bordering the Great Lakes, Ontario has beautiful beaches and national parks to explore before your ceremony. It's warmer in the southern areas, but you're guaranteed snow during the winter months in the north. If you want a white wedding backdrop, you can't beat Ontario.
Quebec, a French-Canadian Province
The architecture of Quebec City has made it a UNESCO world heritage site, but it has plenty of modern and hip restaurants. It, too, offers a number of scenic locations, being located on the Saint Lawrence River and home to the Laurentian Mountains. The average mild summer temperature is in the 70s (F), but when combined with the high humidity, it can feel much hotter. Winters can be brutal if you aren't used to the cold. Plan on snow on the ground from December to April, with an occasional November storm. The spring and fall are shorter seasons, but the weather is typically very pleasant. You may experience an Indian summer in the fall, which is a later heat wave.
Culturally Friendly
Canada is home to many different cultures and religions, with all religions having equal rights. Ministers of every religion have the right to perform a ceremony, and same-sex marriages are legal in Canada. The age to marry can be 18 or 19, depending on which province or territory the ceremony is being held. Canada is home to many picturesque scenes, which can make a beautiful backdrop to your destination wedding.