Eight Money-Saving Tips for Your Wedding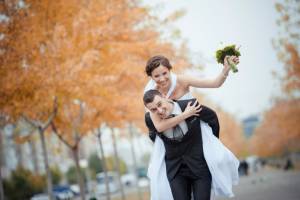 Getting married is not cheap. According to Weddingbells.ca, a top Canadian wedding planning website, couples can expect to spend an average of $31,685 on their nuptials, including the engagement ring and honeymoon. Many people assume the cost will be less; two recent Canadian surveys concluded couples think they will spend approximately $15,000 to tie the knot. The huge discrepancy can lead to increased stress and large credit card bills after all is said and done.
Be Realistic
Setting a realistic budget before you begin the planning can help you keep better control of the costs and avoid impulse purchases. If you have your heart set on a certain wedding dress that is more than you planned to spend, recognize that you may have to eliminate something else to make up the difference in your budget.
Location Matters
The location of your wedding can have a big impact on the price tag. According to Toronto Life magazine, Ontario is the most expensive province in which to tie the knot. Here is a complete list from most to least expensive:
Ontario
Manitoba/Saskatchewan
Quebec
Alberta
British Columbia
Atlantic
Toronto is the priciest city for nuptials, followed by Vancouver and Quebec.
Keep It Casual
Having a wedding that is more informal can be key to keeping costs down. A few suggestions are a more causal menu instead of a sit-down dinner, and skipping tuxedos and formal dresses for the wedding party.
Try an Alternative Venue
There is no rule stating receptions need to be in a hotel ballroom. Other venues to consider that are frequently less money are the homes of friends, parks, beaches or church reception halls. The same applies for the ceremony. Often, there are fees that must be paid for the use of a church and clergy to perform a service. It is very easy these days to get ordained online; a friend could do it and perform your ceremony someplace other than a church.
Narrow Down the Guest List
Taking the time to really scrutinize your guest list and only inviting people who are an essential part of your life is another way to cut costs. A good way to approach the task is to ask yourself if you think you will be close to this individual five years after the wedding. Also, don't hesitate to make it clear to your guests if you don't want them to bring their children along. There are many gracious ways to communicate this message.
Do It Yourself
Many couples are getting creative and finding ways do certain elements of their wedding themselves or are enlisting the help of friends, rather than paying for these services. Some examples are taking your own pictures, baking the cake, and making your own flower arrangements and decorations.
Postpone the Honeymoon
Waiting to take your honeymoon may also save money. Delaying it can give you more time to pay off wedding bills and save for a trip, rather than having to put it on a credit card and pay interest charges.
Prioritize
Deciding the most important components of your wedding in advance can help you stick to your budget. If there is a band you must have, or a reception venue you can't do without, make a note of it. Eliminating items like over-the-top invitations or expensive goody bags for guests to take home after the party may make it more feasible to have what is really important. Most guests will not miss little extras (or even the big ones), even though they may seem necessary to you at first.
A wedding is a joyous occasion and does not need to result in a mountain of bills. Following these eight tips can help you avoid spending more money than you planned.