Contemporary Wedding Etiquette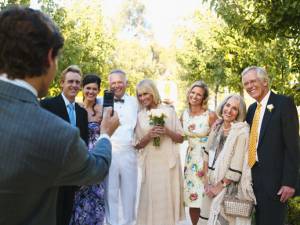 It can sometimes be challenging to know the most gracious way to handle a wedding-related issue. To further complicate the situation, the rules keep changing. New issues that did not exist even a decade ago, such as when guests should post wedding pictures on social media, bring new questions. Referring to wedding etiquette guidelines is one way to help get your questions answered. There are a wide variety of places you can go for this type of information. Emily Post, who died in 1960, was considered a wedding etiquette guru, and her family continues the tradition today through the Emily Post Institute. They have published multiple books and also have an extensive website and blog. There are numerous other resources to assist you, such as weddingbells.ca, theknot.com, Martha Stewart and Real Simple magazine. Here are a few 21st century tips.
The Bride's Family Is Not Required to Pick Up the Tab
Traditionally, the bride's family has paid for the wedding and reception, but this is no longer the case. While they should have the opportunity if they want to be in charge, the groom's family should also offer to help cover expenses. Another alternative is for couples to pay for things themselves. This has become more feasible since many people are choosing to marry later in life and are often financially secure. Second marriages are also common, and even the most generous of parents would probably think twice about paying for two weddings.
Ask Before Posting Photos on Social Media
Don't rush to post pictures of someone else's wedding on Facebook and other websites, especially during the nuptials. It is best to get permission from the newlyweds. They may want to do it first. Being distracted by social media may also prevent you from fully participating in the joy of the moment. Another pitfall of prematurely posting is you may be announcing the event to people who were not invited.
If you are taking pictures during the ceremony, it is important to be courteous of the couple, other guests and the official wedding photographer. While many brides and grooms understand people want to capture the moment, flashing cameras can be disruptive, and they won't appreciate it if you get in the way of the individual they hired to take pictures.
Ontario wedding photographer Lainie Hanlon has had several recent experiences with guests obstructing her pictures because they were trying to take their own. She now suggests her clients consider an "unplugged" ceremony, which involves requesting that guests don't shoot pictures or video during the nuptials. Some ways this message can be politely communicated are:
Enclosing a separate notice in the invitation envelope
Posting a message on your wedding website
Putting a sign out in front of the church before the ceremony
The Bride Does Not Have to Wear White
It is used to be practically mandatory for brides to choose white gowns, but times have changed. While the white wedding dress will always be in fashion, feel free to pick a different color and less conventional style. This approach may even be a better reflection of your personality. Wedding gowns often come with a considerable price mark-up; opting for something else may be more economical. The same rule applies to grooms and tuxedos; wearing suits or other apparel is becoming increasingly popular.
Double Duty Is Fine Wedding Etiquette

In an effort to be greener, and even cut costs, some couples are using wedding-related items for more than one purpose including:
Decorating the reception venue with flowers from the ceremony.
Purchasing elegant paperweights to hold down reception seating assignments that can also serve as party favors.
These four examples are only a few of the confusing situations you may encounter on the road to matrimony. If you are perplexed about what to do, never fear, there are numerous places to turn for guidance.