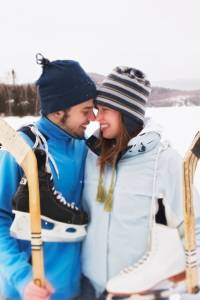 A traditional church wedding is no longer a marriage requirement. Many couples are choosing less conventional places to tie the knot. Exchanging vows at a sporting venue is one of countless options. On March 19, a Toronto couple, who are big Maple Leafs fans, was married on the ice at the Air Canada Centre in Toronto.
Hockey Wedding
In early March, Jennifer Rogers and Scott Protomanni won a contest that allowed them to get married at center ice, with a reception at a suite in the arena included. Rogers and Protomanni watched every league game while they were dating and were selected over hundreds of other couples who entered the contest. Family and friends cheered them on from the stands as they exchanged vows.
A blue carpet had been placed on the ice so no one slipped around during the ceremony, and they had their first dance there as well. The couple wore jerseys that said "bride" and "groom" on the back. Rogers carried a blue and white bouquet and there were hockey stick decorations. Carlton the Bear, the Leafs' mascot, was the ring bearer. The couple also received a pair of tickets to the San Jose Sharks game scheduled for later in the evening. Their rings were provided courtesy of jeweler and sponsor Michael Hill.
"I Do Day" in Rio
In another arena wedding, 2,000 couples exchanged vows at the Maracanazinho Arena in Rio de Janeiro in December. The annual event has been nicknamed "Dia do Sim" or "I Do Day." It was promoted by the city and created to help low-income couples—who were unable to pay for a wedding—get married. Couples with a monthly income of up to $1,000 were permitted to participate. Local authorities also booked special trains for the couples and their guests to transport them to the arena. Volunteer civil judges oversaw the ceremony, and a Roman Catholic bishop and evangelical minister blessed the couples. Some couples had waited years to get married and a number of them brought their kids along. The Maracanazinho Arena will be the site of the volleyball competition during the 2016 Summer Olympics.
Tips for Proposing at a Sports Stadium
While some people choose to marry at sports arenas, others opt to pop the question there. Here are a few tips if you are considering proposing at one.
Know the Answer Will Be Yes
In general, it is nice to be relatively confident that you will receive the answer you want to hear when you pop the question. If you are going to do so before thousands of people, it is even more important. The moment will be pretty embarrassing if the answer is no.
Be Sure Your Significant Other Will Like It
Not everyone wants to get engaged at a sports area. According to The Knot, a leading wedding planning website, only 10 percent of women like the idea of being proposed to at a stadium. If your significant other is a big sports fan, it may be a wonderful idea. Another issue is that not everyone wants to get engaged in such a public way, which may also include sports fans. You don't want to spoil this momentous occasion by making your significant other uncomfortable in front of an arena's worth of people.
If you are considering a stadium proposal, it is a good idea to do your research. Typically, there is a fee for doing this and it can cost up to several hundred dollars. You will probably have to be brief; even stadiums with large jumbotrons often limit the size of messages to 10 or 12 words.
A sports stadium wedding was ideal for Jennifer Rogers and Scott Protomanni and may be worth investigating if you and your partner like the idea. Proposing at an area can be a different affair altogether.