Canadian Wedding Trends for 2015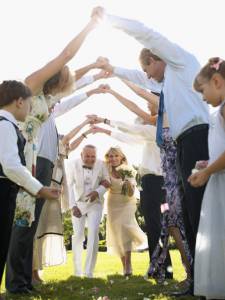 2015 is a great year to get married, no matter the season. For Canadian couples planning their nuptials, there are many fun and stylish wedding trends to consider incorporating into their weddings. Some are tried and true classics and others are more recent additions.
Non-Traditional Reception Venues
Having your reception in a formal ballroom is no longer a must. More and more couples are seeking out less conventional spaces such as galleries, museums, lofts, restaurants and outdoor areas. Avoiding a hotel ballroom can also make way for a greater variety of catering options. Many hotels insist you use their in-house services if you use their venue.
Innovative Menus
Food options for Canadian weddings have substantially evolved over time. Instead of a sit-down dinner or buffet, many couples are opting for more innovative alternatives. Some hire food trucks to cater their reception or hold events at independent restaurants. Serving sustainable, locally sourced cuisine is also becoming more important for a number of couples. Another popular trend is to provide comfort food like mac-n-cheese and BBQ rather than serving a more formal meal. The progression to more casual dining has also impacted desserts; cupcakes, macaroons and other bite size sweets are favorites. However, don't assume food trucks, comfort food and smaller desserts means the tab will be lower.
Pastel Garden Flowers
Feminine pastel colored wedding flowers such as peonies, hydrangeas, freesias and lilacs are very en vogue. They can often be found all mixed together in bouquets and centerpieces which can create a fluffy light look with lots of texture and depth.
Pretty Stationary
A wedding is one of the few occasions where people still mail invitations. The postal service and stationary companies are undoubtedly happy this trend has endured the test of time.
No Formal Ceremony
A popular alternative to a formal ceremony at a church or synagogue is to use a justice of the peace or clerk of the court, and have only a handful of witnesses. There are also websites where people can easily get ordained online so another option is to have a friend or family member officiate the service. After the vows are done, couples may throw a big party at a later date.
Smaller Wedding Parties
The downsizing of wedding parties is a trend that has picked up steam. Many brides are now opting for one to four attendants and any more is increasingly uncommon. Couples are marrying later in life and attendants are typically older as well.
Different Bridesmaids Dresses
There are many more alternatives for bridesmaids' dresses these days. Instead of picking one dress for everyone to wear, some brides pick a color and let their attendants choose the style of the dress. This often results in dresses that are more figure-flattering. Another option is to pick a dress style and let your bridesmaids' choose the color they want to wear.
2014 Canadian Wedding Trends
The Annual Reader Survey from Weddingbells.ca (link) provides interesting information on Canadian wedding trends. Here are some of the statistics:
There were approximately 162,056 weddings in 2014 in the Great White North.

The average cost of a wedding was $31,685. July and August nuptials are a little pricier.

In Canada, the average age of a bride is 31 years old.

The top month in which to get engaged is December; 18 percent of Canadian grooms propose then.

August is the most preferred time to marry with 25 percent of couples choosing that month to tie the knot.

There are an average of 128 guests per Canadian wedding.

Since 2010 the Bahamas has been the top honeymoon destination for Canadian couples.
These are a few trends that can provide inspiration when planning your big day. A wedding is a once in a lifetime event and should reflect the unique style of the happy couple.