Canadian Cemeteries You Should Know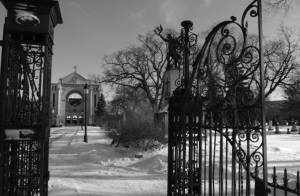 Most people probably don't think about cemeteries unless they have to. The deaths of family members and friends, contemplating one's own demise and even Halloween are times that can bring thoughts of graveyards to mind. Canada is a land of many distinct and historic cemeteries.
Oldest
Garrison Cemetery in Nova Scotia is the oldest formal cemetery in Canada. It is a very picturesque spot and situated next to historic Fort Anne in Annapolis Royal, Nova Scotia. There are rolling hills and sweeping views of the Annapolis River. The oldest gravestone belongs to Bethiah Douglass who died on October 1, 1720.
Cemeteries of Titanic Victims
On April 15, 1912, the RMS Titanic sank in the freezing waters of the North Atlantic. One hundred twenty victims of the disaster are buried at the Fairview Cemetery in Halifax, more than any other place in the world. Approximately one third of the dead were never identified. Halifax is the final resting place for an additional 29 people who perished on the Titanic; 19 are buried at Mount Olivet Cemetery and 10 were laid to rest at Jewish Baron de Hirsch Cemetery.
Graveyards of Canadian Prime Ministers
The first Prime Minister of Canada, John McDonald, died in 1891. He is buried at Cataraqui Cemetery in Kingston, Ontario.
John Thompson was the fourth Prime Minister of Canada. In 1894, he died suddenly while in office of a heart attack after serving only two years. Thompson is buried at Holy Cross Cemetery in Halifax.
Mackenzie King was the country's longest serving Prime Minister. He led the country for 22 years, died in 1950 and is buried at Mount Pleasant Cemetery in Toronto.
Prime Minister from 1957–1963, John Diefenbaker is the only PM buried in Saskatchewan. His final resting place is next to the Right Honourable John G. Diefenbaker Centre at the University of Saskatchewan, Saskatoon.
One of the most famous political leaders of the 20th century, Pierre Trudeau is buried in a family vault at St-Remi-de-Napierville Cemetery, a small Catholic graveyard in Quebec.
Other Notable Cemeteries
Mountain View Cemetery – Vancouver
Mountain View Cemetery opened in 1887. It is the oldest and one of the largest cemeteries in Vancouver, and is situated on 106 acres. Over 145,000 people are interred there including many prominent residents of Vancouver.
Notre Dame des Neiges Cemetery – Montreal
Notre Dame des Neiges Cemetery is the biggest cemetery in Canada; it is the final resting place of more than one million people and sits on 343 acres. The third largest cemetery in North America, the property features over 65,000 monuments.
Hamilton Cemetery – Hamilton, Ontario
Hamilton Cemetery is the final resting place for over 30 mayors of Hamilton including the first Mayor of Hamilton, Colin Campbell Ferrie, who died in 1856.
Boniface Cemetery – Winnipeg
This oldest graveyard in western Canada, St. Boniface Cemetery, is also the final resting place of Louis Riel, founder of the province of Manitoba.
Burial vs. Cremation
There is plenty of room at Canadian cemeteries these days. More and more citizens are opting to be cremated rather than buried in a casket at a graveyard. Over the years, the cremation rate has steadily increased in the country. In 1970, the average rate was slightly less than six percent. It was a little over 68 percent by 2010. The popularity of cremations differs by province. British Columbia has the highest rate at 77 percent and New Brunswick is the lowest at 33 percent. It is significantly less expensive and more environmentally friendly to be cremated. Others factors that may influence your decision are religion and culture.