A Surprise Wedding at Vancouver's Diner En Blanc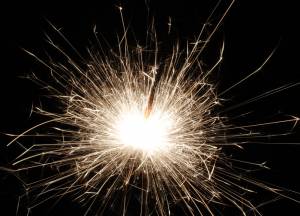 The August 25 nuptials of Rachel Steinebach and Sam Merrell was unique and visually stunning, to say the least. The Abbotsford couple shared their big day with 20 relatives and friends. Approximately 4,500 other people, all dressed in white, were also in attendance. They were participating in Vancouver's annual Diner En Blanc, which took place at Canada Place on the Vancouver Waterfront. The extra "guests" had no idea they would be witnessing a "pop-up" wedding ceremony, but were thrilled to participate nonetheless. Steinebach and Merrell were the first couple to be married at a Diner En Blanc. However, the all-white backdrop provided such a natural setting there are bound to be more weddings at future events.
What Is Diner En Blanc?
The first Diner En Blanc was held in Paris in 1988 and organized by Frenchman Francois Pasquier. He invited some friends to an elegant al fresco dinner in a park, but revealed the location at the last minute. To make it easier for guests to find each other, he told everyone to wear white. These sophisticated dinner parties have since grown into a world-wide phenomenon and currently take place on five continents. The largest Diner En Blanc takes place in Pasquier's hometown of Paris and attendance is around 15,000 people per year. Montreal is host to second biggest event which has approximately 5,500 participants.
The Basics

Each reservation is for two people.
The date is announced in advance, but guests learn the location at the last minute.
Participants gather at rallying points prior to dinner and proceed to the mystery location once it is revealed.
Diners must wear all white (no cream, ivory, etc.) and casual attire like shorts, flip-flops and sneakers is frowned upon.
You must be bring your own dinner or order it through Diner En Blanc.
If you bring your own meal, it has to be elegant fare, multiple courses and eaten with utensils (no McDonald's).
No outside alcohol is permitted and all wine must be ordered through Diner En Blanc.
Guests are also expected to bring silverware, china, card table, white tablecloth and two fold-up white chairs.
Good luck transporting all the necessary gear!
The cost is around $35 per dinner.
Diners are also charged an $8 annual fee. This ensures they will automatically be invited to the same event the following year, and gives them registration priority to other Diner En Blanc events around the world.
There is a limit to the number of people who can attend because space is limited.
The dinners take place rain or shine.
White sparklers are lit by all at the end of the evening.
Other Locations
There are approximately 60 places that host Diner En Blanc events. The majority of which occur in North America and Europe during the summer. Following are some of the cities and specific locales.
Vancouver: On the waterfront at Canada Place, David Lam Park and near Science World.
Montreal: Diner En Blanc was officially launched in Montreal in 2009 by founder Francois Pasquier's son Aymeric. It has grown to become the second largest gathering. A few of the past venues include outside Olympic Stadium,

Place-des-Arts

and Victoria Square.
Paris: The City of Lights (and birthplace of Diner En Blanc) plays host the biggest gathering and approximately 15,000 people participant each year. Some of Paris' most iconic locations have served as the setting, including the Eiffel Tower, Palais Royal Garden, Esplanade des Invalids, Champs-Elysees, Louvre Pyramid, Trocadero Esplanade, Place d'Etoile, Place de la Concorde and Place Vendome, and Pont des Arts.
Diner En Blanc is an elegant, unique dining experience, and it will forever hold a special significance to newlyweds Rachel Steinebach and Sam Merrell.